Basement Renovation in Durham
Durham Basement Renovation
Our basement renovation contractors on our team are among the best in the industry, as are the commercial and residential renovation contractors. We are licensed, bonded, and insured, so you can place your trust in our team to complete your renovation projects without having to worry about being liable for any damages. You might convert your unfinished basement into an area for your friends, family, and other guests to enjoy entertainment, or you could use it as an office or a personal gym for you and your close friends.
Our professionals in basement renovation are committed to changing your unfinished or finished basement into a fully functional room that you can find joy in using. The versatility of a basement allows for it to be transformed into anything, from a playroom for children to a movie theater, a bar, or anything else you can think of! Our goal is to turn your visions into a reality. We are the most experienced company in this industry, having worked in it for more than ten years, and we are currently the leading basement renovation business in the area.
Our passionate and dedicated team of specialists specializing in basement renovations is ready to assist you with any and all of your needs for completing your basement. When it comes to turning your vision for renovating your basement into a reality, our staff is able to supply you with high-quality products as well as first-rate service. Our method of putting the needs of the customer first has earned us a stellar reputation, and we make it our top priority to guarantee that each and every one of our clients is entirely content with our services.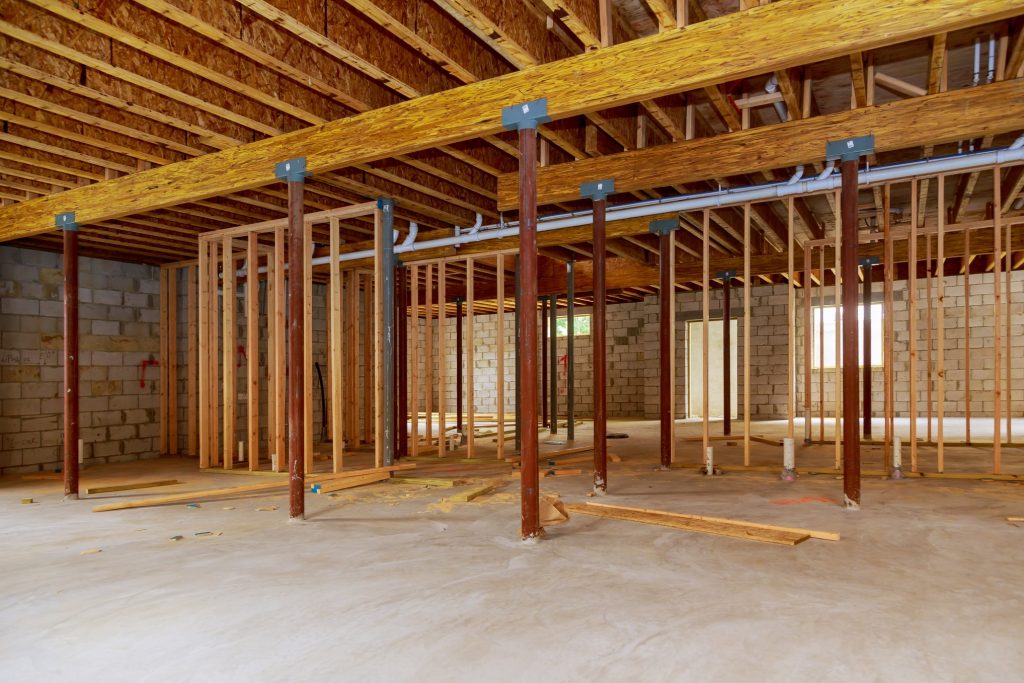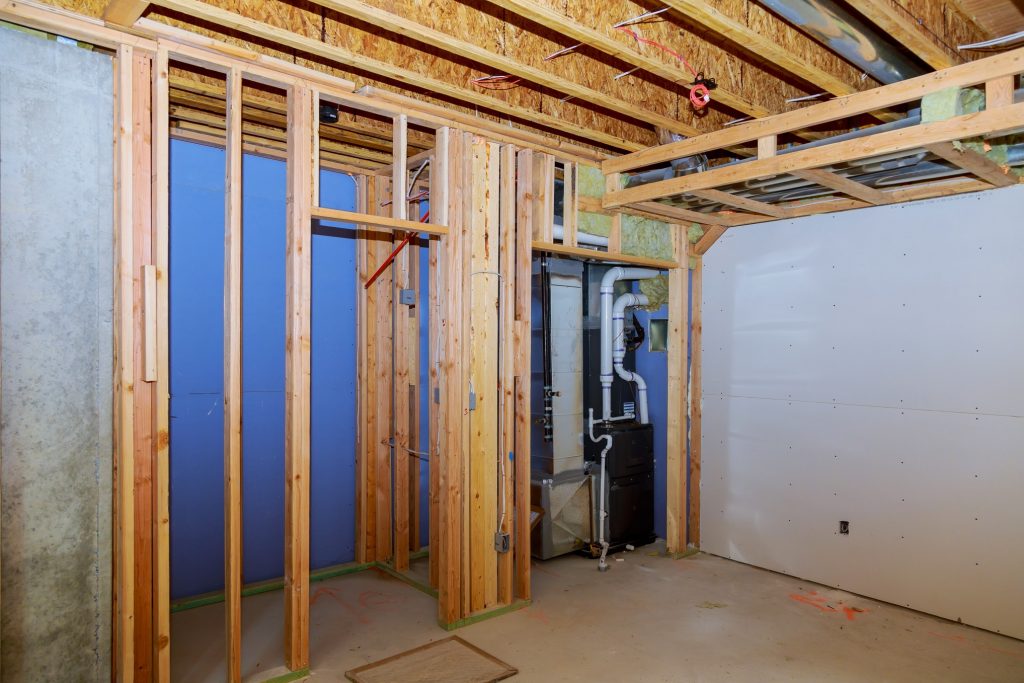 Durham ON Basement Renovations
We don't often think of our basements as a place where we can unwind and have fun; instead, we tend to view them as a place where we can store our belongings. Our team is determined to make a difference in this situation. It is important to remember that your basement is an extension of your home and that it should be utilized in the same manner as any other room on your property. Our basement renovation services can help you in turning any of your visions for your basement into a reality. Whether you want to turn it into a playroom for your kids or an entertainment space for your visitors, we are here to help you in bringing your ideas to life.
Basement Renovation Project in Durham
Although the basement is often the last room in a house to be renovated, it is one of the upgrades that may potentially add a significant amount of square footage to your home as well as raise the value of your property. Remodeling is in order since you have an unfinished basement under you!
Basements, which are traditionally seen as nothing more than chilly storage spaces, may now provide warm and comfortable environments that may be used to generate more square feet of delightful living space in your home.
Renovations to the basement are commonly disregarded, despite the fact that they are the ideal way to put the final touches on any house. There is no longer any reason to be terrified of the damp and gloomy environment that is found in your basement. Because it gave them the opportunity to make better use of space that had been unused in the past, installing a new basement has considerably enhanced both the quality of their home and the way they live in it for a considerable number of our happy clients.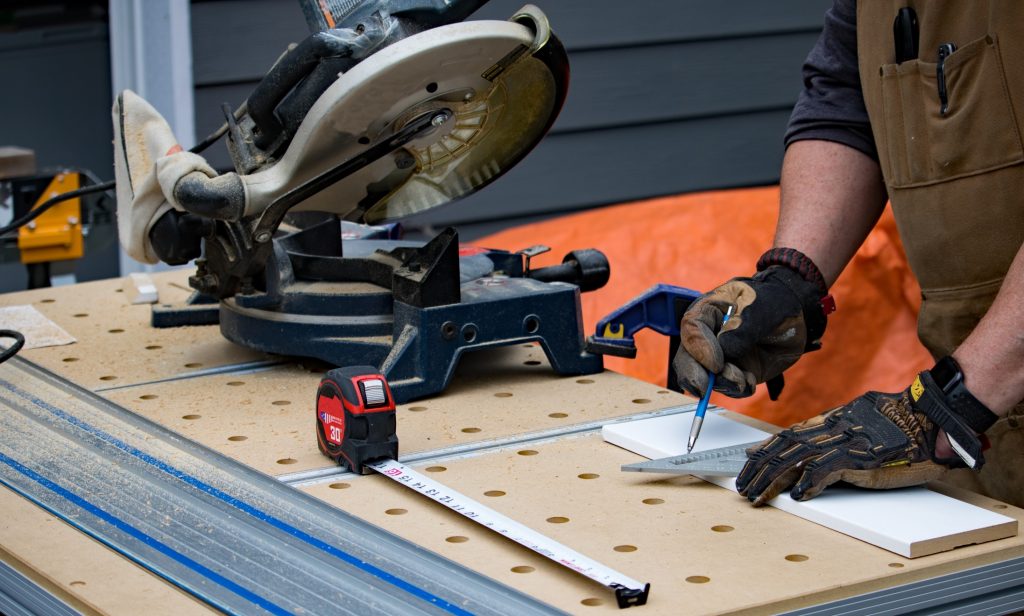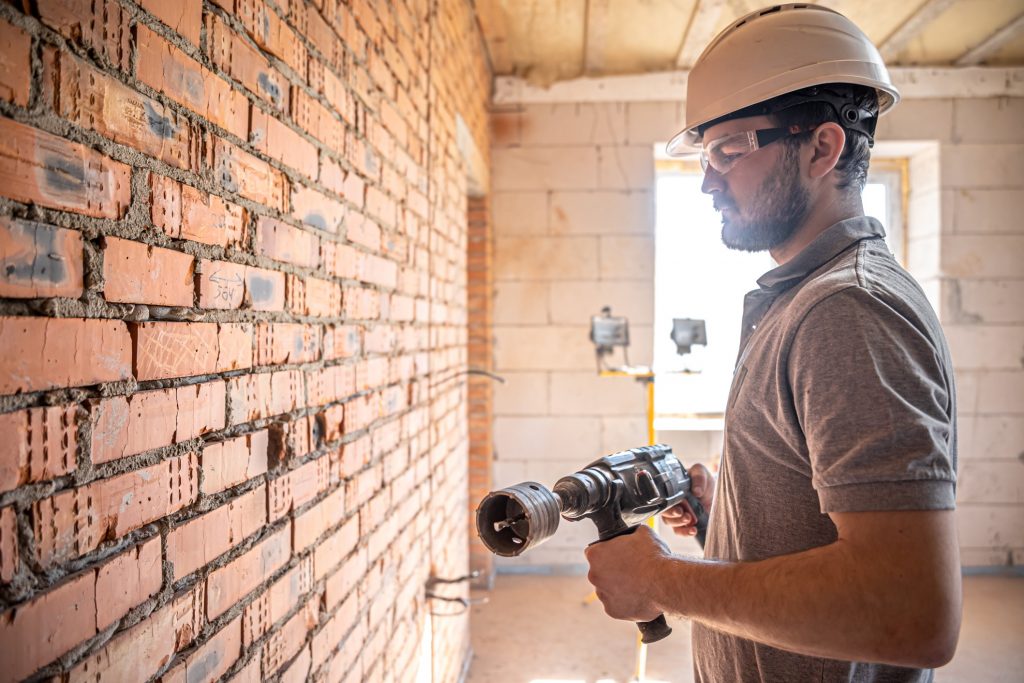 Durham Basement Renovation Contractors
Above all, we aim to make every finished basement makeover as hassle- and stress-free as possible. We keep the homeowners engaged in each stage of the process and operate on the basis of a pricing technique that is entirely open and clear. This enables us to create a basement in the area for an affordable price practically every time, regardless of the size or complexity of the project. The cost takes into account a thorough inspection of the structural underpinning and any problems, a 3D model of the finished basement, all labor and materials, waste collection, and a total clean-up when the job is finished.
Our degree of professional knowledge is the only thing that even comes close to matching our passion to excel in all that we do. We want to make sure that each and every one of our clients is entirely satisfied with our services and feels comfortable recommending us to their family and friends. Get in touch with us to receive a free estimate.
Finished Basement in Durham Ontario
Why will you love a basement that has been completely finished?
Increased Property Value – It is not only more profitable to sell your main house when it has a completed basement, but it also makes your property quite a bit more desirable to those who might be interested in purchasing it. In the event that you make the decision to sell your property, this will be of great assistance, particularly if the market is now favorable to purchasers.
Extra Income Potential – If you have a finished basement, you have the opportunity to reduce the cost of your mortgage by renting out one of the spaces in the basement. We are able to assist you in the creation of an environment that is inviting, safe, and up to code, regardless of whether it is for short-term guests or long-term subtenants.
Living Space Increase – It is possible to make greater use of the rest of the home once the basement has been rebuilt, which is one of the most obvious benefits of having a remodeled basement. We are able to lend you our knowledgeable service professionals so that you may design a space in your home that your guests will appreciate just as much as the rest of your home.
Work Area Option – These days, a lot of individuals are taking advantage of the opportunity to work from the convenience of their own homes, which is very common. You will be able to maintain a healthy work-life balance if you have a completed basement since it provides you with a place to rest that is both nice and private.
No Zoning Issues – It is possible that the zoning laws in your community will make it impossible for you to construct an extension onto your house if you now have those plans. Finishing your basement is a great alternative for acquiring the additional square footage you desire if you are unable to extend the area in which you live because of physical or financial constraints.
Affordable Option – Many of the materials that are required for main-level and upper-level additions can become prohibitively expensive. On the other hand, many of the materials that are utilized in a basement addition are just as durable, yet significantly more cost-effective than those that are required for main-level and upper-level additions. Our staff is able to guide you through the various options that are available to you and develop a strategy that is adapted to meet your unique requirements, goals, and budgetary restrictions. No matter what you have in mind for the use of your basement, we are prepared to put in our best effort to ensure that you are entirely satisfied with the area that we create for you.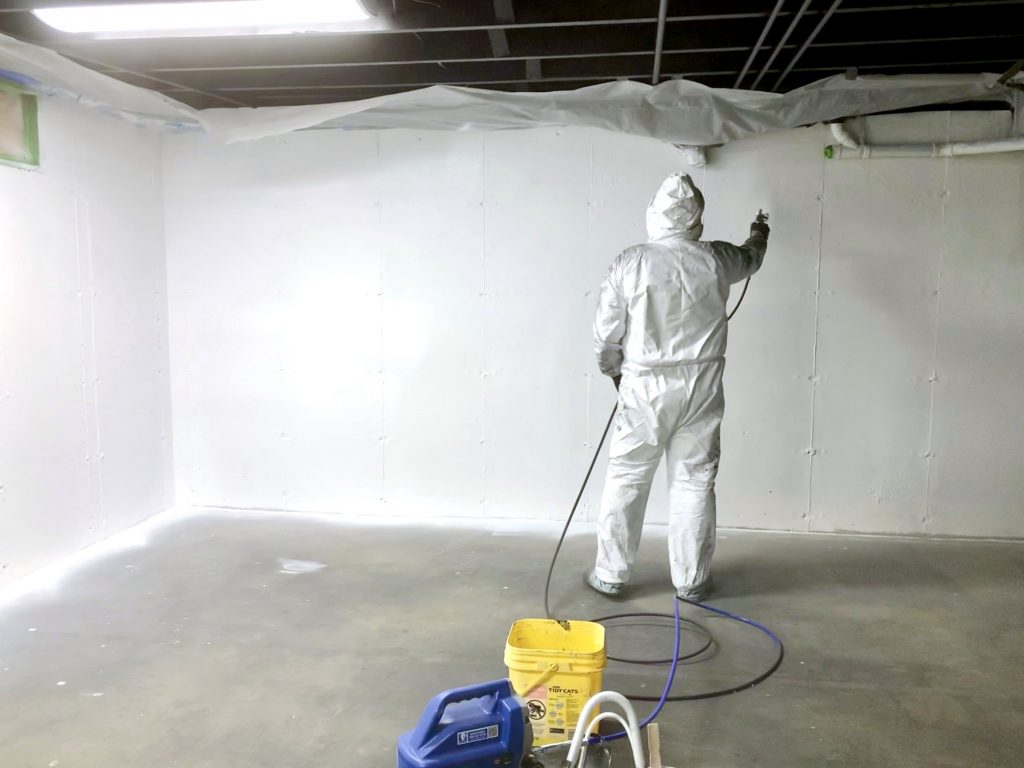 Basement Finishing in Durham
Basement finishing is an efficient and affordable way to transform a space that is not being used into a living area that can be utilized. Not only do we specialize in basement construction, but we also provide services in the field of basement finishing. In order to finish a basement from scratch, our technique involves adhering to the procedures that are recognized within the industry. Your completed basement has the potential to become a very lucrative investment if you give it the necessary care and attention to detail. In order to construct a basement that fulfills all of your requirements in the best possible way, we are able to utilize a wide selection of basement finishing ideas. We provide a selection of basement layouts for you to select from, and our team of experienced basement builders can customize your project according to the requirements you provide.
Basement Kitchen in Durham
Having a kitchen that is integrated into your basement is currently more valuable than it has ever been before. In today's culture, many homeowners transform the spaces in the basements of their homes into entertainment areas, where they and their families may congregate and spend quality time together. In order to make the most of the space that may be used in your basement while also enhancing its usefulness and usability, installing a kitchen in the basement is a fantastic alternative.
A lot of people decide to finish their basements and turn them into living spaces like family rooms, guest bedrooms, bachelor flats, or legal secondary dwellings. As a consequence of this, it makes a great lot of sense to make the atmosphere as hospitable as possible while also making it as functional as possible by installing a kitchen or kitchenette.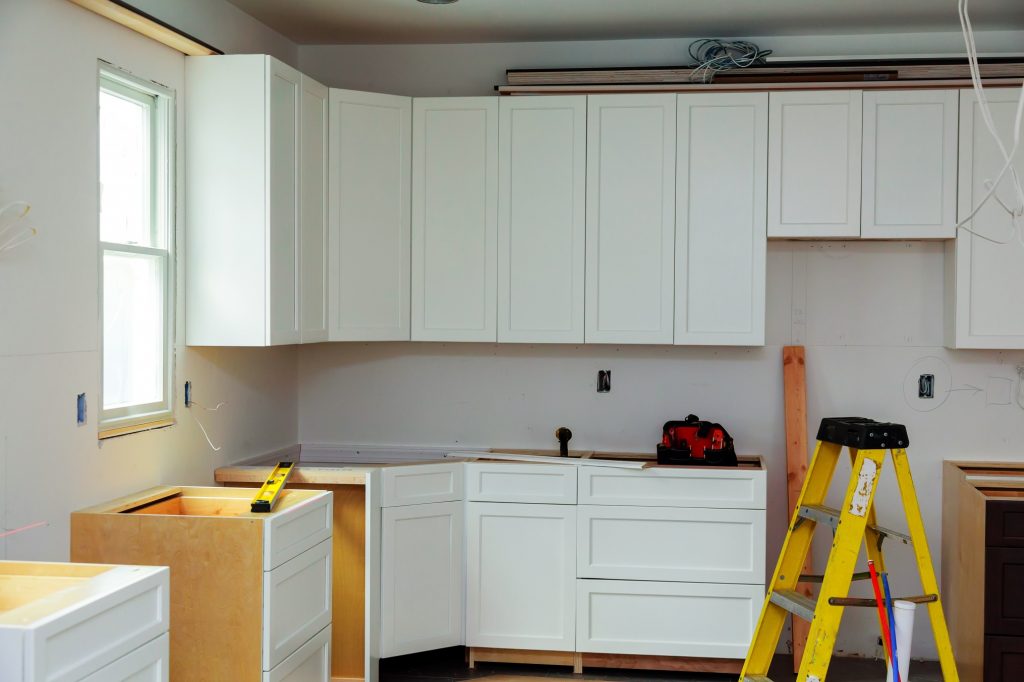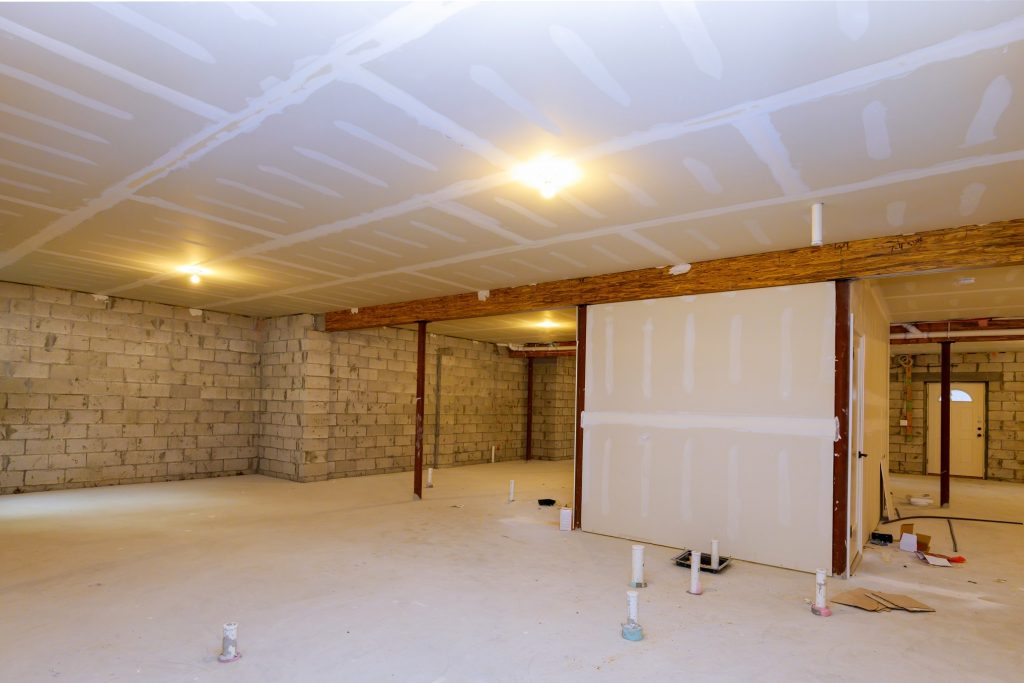 Basement Apartment in Durham
It's not uncommon to hear people refer to basements as "dark and frigid storage spaces." However, this does not indicate that they are required to remain in this status for the foreseeable future. If you put in a little bit of effort and use your creativity, you might be able to turn that dull basement into something quite wonderful. Renovating one's basement may provide a host of advantages to the homeowner and is something that every homeowner needs to give serious thought to carrying out at some point. Remodeling your basement so that it can be used as a fully functional living space is one of the most well-liked and lucrative ideas for basement remodeling that you can implement. A basement apartment is a type of remodeling project that is not only relatively easy to finish but also has the potential to create a continuous source of income for the homeowner.
Durham Basement Contractors
Do you need additional space in your home for entertaining guests, or do you simply want a more comfortable meeting spot for the whole family? Convert the space in your home's basement into the basement bar you've always envisioned having. You can trust our professional team to take your finished basement or basement bar floor plans and turn them into a magnificent reality.
We will be able to assist you with the remodeling of your basement, and we will be able to achieve the objectives that you have set. Contact us to get a free estimate.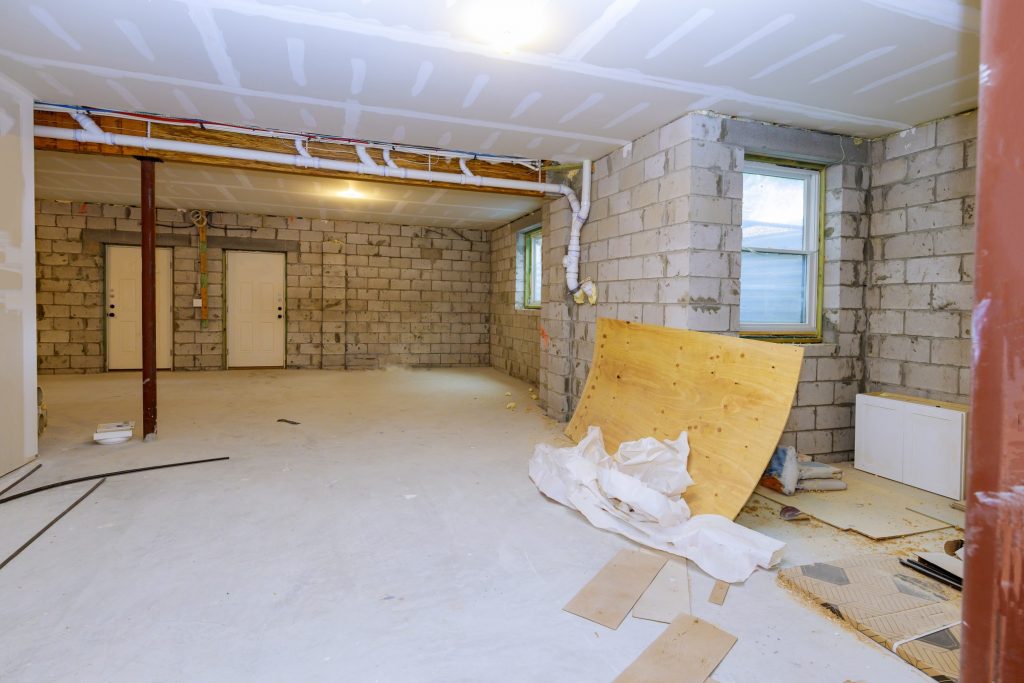 Basement Office Renovation in Durham
Because so many people now work from home, it is essential to designate a spot in your house that is conducive to work, where you won't be distracted, and where you can get things done. When there is so much activity going on around someone, it can make it difficult for that person to concentrate, especially if they do not have their own personal space. It is occasionally necessary to seek a new workstation, whether it be due to the presence of noisy children, loud televisions, or consistent interruptions.
It is possible that a basement office would provide a comfortable and quiet environment in which you will be able to concentrate on your job and carry out the responsibilities of your day. This makes it a great alternative. Our organization can be of assistance to those individuals who are interested in making an investment in a basement office.
Do you lack confidence in your ability to beautify your office? We can help you with this matter as well! We will assist you in identifying the materials that are most suited for your workplace while adhering to the financial plan that you have established. You're going to really like your new workstation since it will allow you to get work done while also allowing you to keep a good balance between your personal and professional life.
Advantages of Setting Up a Basement Office
In recent years, homeowners have increasingly been contemplating converting their basements into home offices as one of the most prevalent and popular options for basement renovation. What might possibly be the cause of this? A basement office, on the other hand, can really bring in money for you, in contrast to other types of modifications. However, this is not the only benefit that can be acquired from the makeover. Setting up an office in the basement of your home has a number of additional benefits, including the following:
More living space – More living space equates to an increased number of benefits. You no longer have a basement filled with unused space; rather, you have a fully functional home office that also increases the value of your house.
Freedom – Imagine you didn't have to rush to get to work, and you didn't have to wait in traffic either. You won't have to be concerned about any of these problems if you work out of your home office.
Flexibility – Working from home gives you the opportunity to spend more time with your children. You are always there for your child in the event that they require assistance.
Professional setting – Maintaining a professional demeanor is essential while interacting with customers. This problem may be fixed by constructing an office in the basement, which will provide a suitable setting for work.
When you give visitors a tour of your home, do they sometimes skip the basement on the way down to the first floor? If that's the case, would you rather not have the location included on the show since it seems so dark and depressing? Our team is committed to making the most of the space in your home's basement by converting it into one of the most functional and appealing living areas possible.
What do you think of this as an idea: You will be able to entertain relatives and friends as well as the complete extended family if you install a brand-new wet bar in the basement. We will work with you to change that uninspiring space into a cozy and inviting environment that you will be proud to show off. Take a look at our vast collection of basement wet bar styles, or work with us to create something completely unique!
Basement Bar Ideas
Whether you have a passion for hosting gatherings at your home or you just want to create the ultimate "man cave" in your basement, a private bar is a terrific addition to any home that you call your own. This is your opportunity to create whatever kind of bar you can imagine, and you might not even know where to begin if you take advantage of it. The following are some frequent ideas for basement bars that should start your creative juices flowing and inspire you to come up with your own.
Top Materials – It is a great deal simpler to work on the design of your bar and choose the materials to use in its construction when you have a certain concept in mind for it. The notion of designing a basement bar in the manner of a traditional tavern and furnishing it with rich, dark, wooden fixtures and decorations is rather common. Basement bars often take on this look.

Of course, this is not the only answer that may be considered at this point. You could also create a bar with a nautical theme that will make you feel like the captain of your own ship, a bar with a romantic wine theme, a bar with a sleek and modern design, a bar with a nautical theme that will make you feel like you are the captain of your own ship, or you could replicate the design of a bar from a well-loved book, movie, or television show that you enjoy.

Bar Body – Your responsibilities will include the overall construction in addition to the design of the basement bar. In this stage of the process, you will figure out how far the bar top will extend over the edge of the bar. The room will have an air of simplicity and a more contemporary vibe if it includes a bar that is scaled-down but still has a significant projection. The availability of additional storage space in the bar is directly proportional to the size of the bar's serving area. In point of fact, a number of different kinds of bars are constructed out of dark wood stuff or wood composites. As a result of the bar's face being able to be altered, there is potential for further imaginative basement bar concepts. It is probable that the front surface will be covered with wood paneling, innovative artwork, ceramic tile, or any other unique material. Alternatively, the surface may be left bare.
Choosing a Theme – The selection of the basement bar themes that are most suited for the space comes first in the restoration process. In point of fact, after you have selected a topic that caters to your requirements in the most effective manner, it is a great deal simpler to focus on a design and select construction components. The fundamental objective of the concept of a basement bar is to convert the space into a classic tavern replete with opulent, dimly lit, hardwood furnishings and embellishments, among other things.
Lighting – Rather than depending on harsh overhead sources, you should consider putting lighting in your basement bar in order to create a pleasant atmosphere there. Directing light onto surrounding shelves or upwards toward sources can be accomplished with the use of a track or pendant lighting.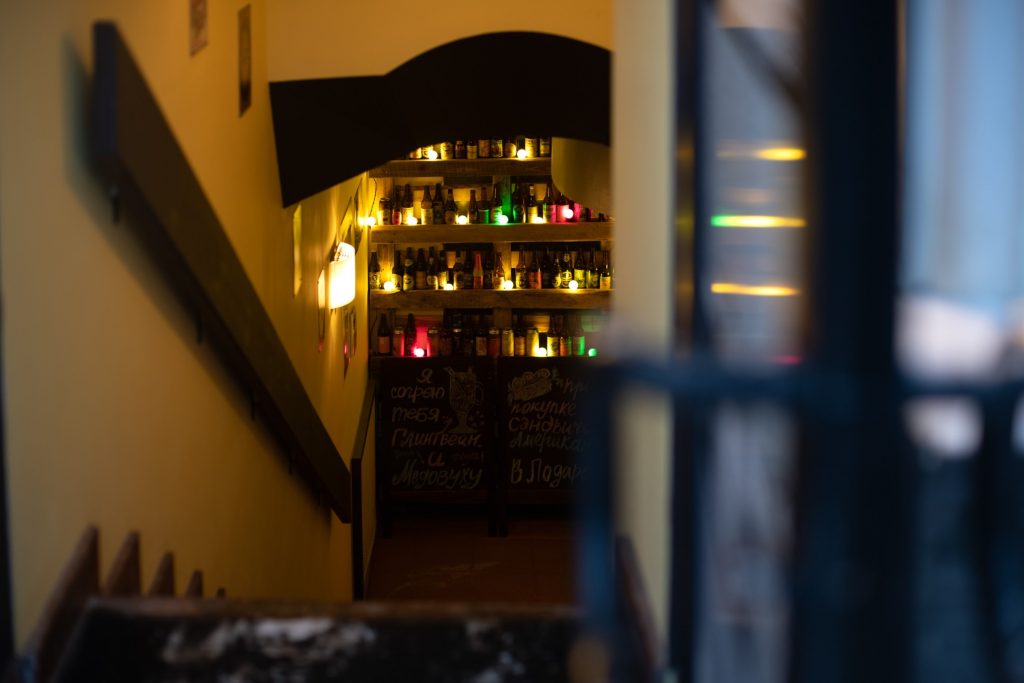 Durham Basement Bar Renovation
The construction of basement bars might be a straightforward addition or an endeavor that demands much forethought and organization. It all boils down to a matter of personal preference and the limitations of one's budget. A bar can have any number of different characteristics depending on the owner's preferences. a wide range of bar designs, such as kitchen-style bars and arcade-themed bars, in addition to a selection of lighting fixtures, individualized shelf space, and a lot of other options. Therefore, which characteristics ought you to incorporate? Cabinets, tables, and a conversation piece are just a few examples of the crucial elements that are required to make the bar into the perfect basement extension. Contact us to learn more!
What is the estimated price tag for repairing the basement? When it comes to upgrading an existing basement, it depends on various different variables. Dimensions and finishes might be different for each item. How much does it typically cost to renovate a basement? Basement improvements are between $30 and $75 per floor. Depending on the building materials and floor plan that was chosen, the finished basement may have cost anywhere from $30,000 to $750,000 to complete. Are basements more comfortable than they appear to be? Your home's worth will grow as a result of the increased space provided by a recently refurbished cellar. Are basements suitable for use as underpinnings? The process of adding height to a basement which is known as basement underpinning is one that the vast majority of house builders use.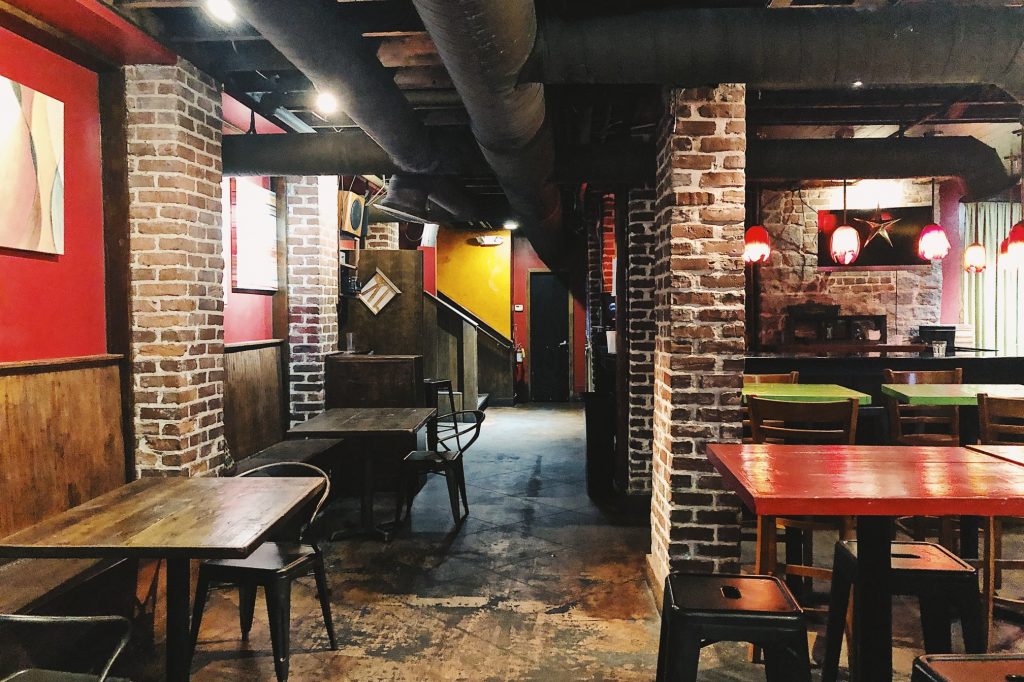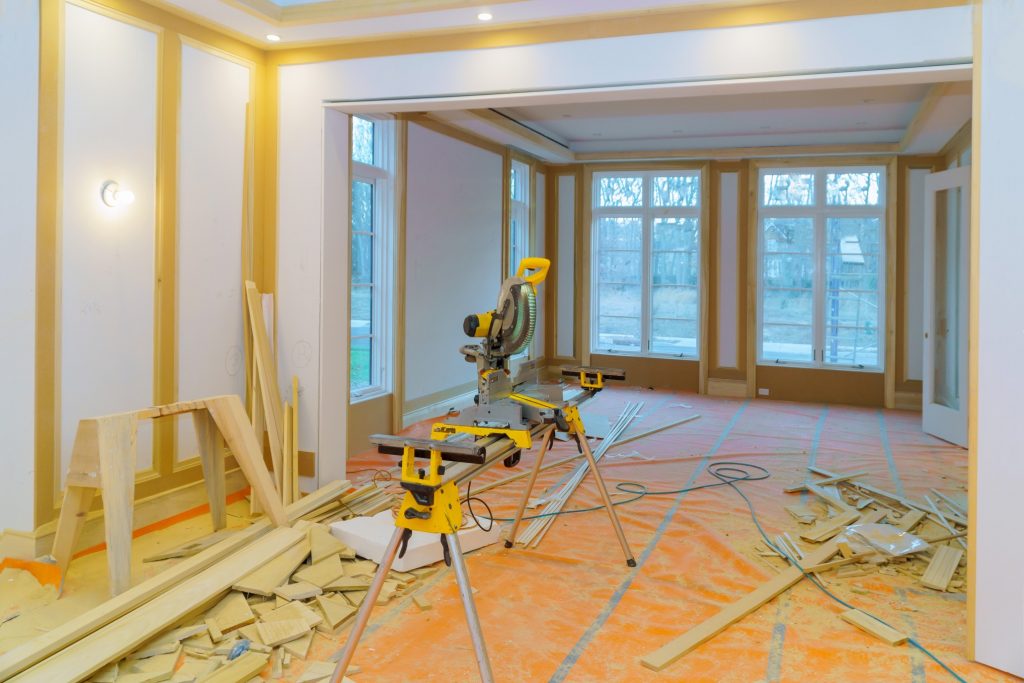 How much does a basement renovation cost in Durham Ontario?
The cost of finishing a basement in Ontario can vary greatly from project to project. This is mostly due to the fact that every basement is unique and, as a result, demands a particular plan of action for the remodeling process. Repairing a basement typically runs between $60 and $90 per level of the home on average. The price range for renovating a house that is 11,000 square feet in size is between $60,000 to $90,000. The following is a list of basement renovations depending on cost: It is in your best interest to obtain price estimates from a number of different companies.
Basement Finishing Ideas in Durham
This space is often dreary in appearance, making it difficult to devise creative ways to put it to use. Utilizing a wide variety of design approaches is the method that yields the finest results when decorating basements. The majority of members of the family have fashioned their basements into home cinemas or entertainment areas, while some have transformed basements into stunning bedrooms. If you have no clue what to do, you should ask for tips from a professional interior design magazine and examine it if you have no ideas. This suggestion for completing the basement ought to be implemented.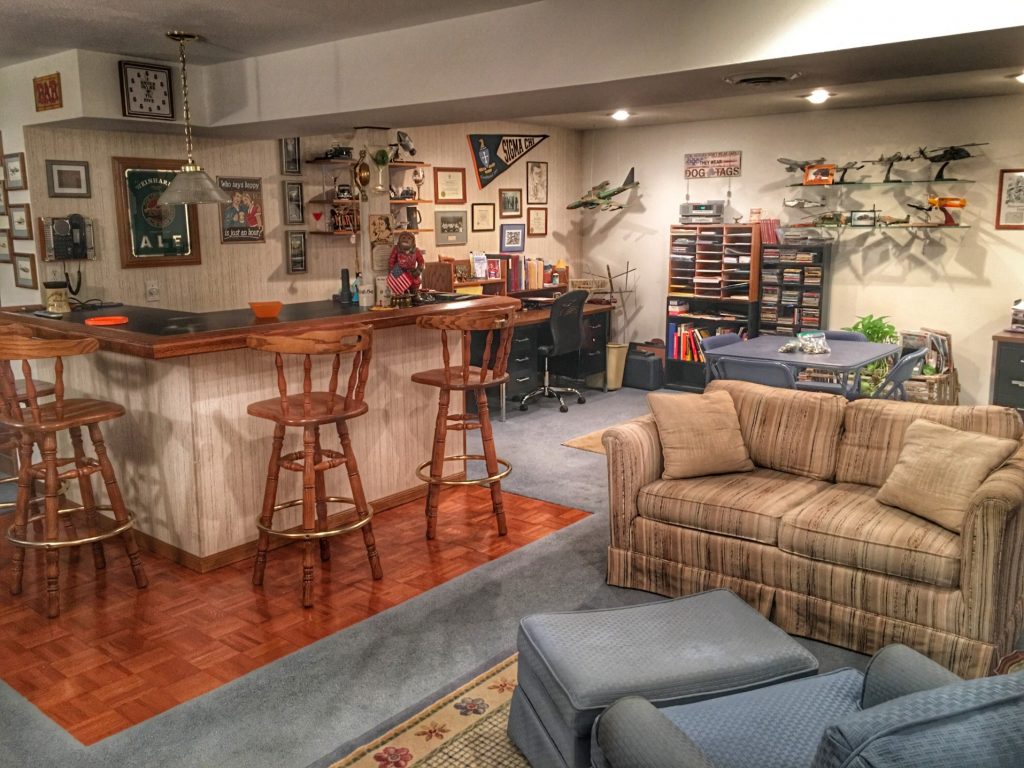 Frequently Asked Questions About Basement Renovations
What is the cheapest way to remodel a basement?
If you are searching for methods to complete your basement on a budget, you may be tempted to do the entire job yourself from start to finish, maybe cutting corners wherever you can along the way. This can be a good way to save money, but there are other ways to finish your basement on a budget. But if you don't know what you're getting yourself into and what's permitted by the construction rules in your region, you might wind up paying yourself tens of thousands of dollars more in the long run. This is because you won't know what you're getting yourself into. Indeed, making sure that you are spending your money in an efficient manner is the single most critical thing you can do to save costs throughout the remodeling of your basement.
Before you invest money in the conversion of any type for your basement, you should first check with the local building official to find out what is permitted and what is not permitted in your region. Before commencing any work, the building official will let you know if your plans are within the limits of the residential building code and zoning rules, as well as advise you on the permissions that are required.
What's the most expensive part of finishing a basement?
To finish a basement that is 1,200 square feet in size, the two largest expenditures are the flooring and wall coverings such as paneling. Together, these two categories account for around 15 percent of the entire cost. The cost of plumbing and electricity comes in at a close second, accounting for around 14 and 11 percent of the total correspondingly. Finally, the cost of interior carpentry necessities such as trim and railings accounts for approximately 10 percent. Expenditures that are still outstanding can include items like drywall and insulation, cabinets and worktops, painting, and even cleaning.
The precise pricing will change based on the size of the basement, whether or if other facilities such as a bathroom or wet bar are added, and how quickly you want the construction to be finished. Also, this is predicated on the assumption that your unfinished basement is in healthy shape.
Before you begin completing your basement, it is critical to have it evaluated for problems with the foundation and drainage. In the event that an examination discovers water damage or the potential for water seepage, the cost of waterproofing the basement and perhaps repairing the foundation will most certainly increase.
Is a basement remodel a good investment?
In spite of the fact that completing a basement will need you to make a financial investment, doing so will prove to be quite cost-efficient in the long run. The Appraisal Institute of Canada states that completing a basement has the highest value in terms of the enjoyment it provides in terms of house improvements. When it comes time to liquidate your real estate holdings, you may anticipate a return on investment (ROI) of anywhere from fifty to seventy-five percent (ROI). Keep in mind that this is only an estimate and that the value will differ from house to property as a result. Nevertheless, considering that it includes an additional room that the rest of the family may use, it is not a terrible amount of money.
There are other ways to earn paybacks, too. As was indicated, one of the options available to you is to take in a tenant and earn a respectable amount of rent on a monthly basis. In the meanwhile, putting together an exercise room at home will free you from the obligation of maintaining an expensive gym membership. In a similar vein, having a home theater might free you up from the need to go to the movies on a regular (or even weekly) basis. Staying at home offers a number of benefits, one of which is the opportunity to save money on petrol.
What do I need to remodel my basement?
Renovating your basement is an excellent method to increase the value of your house as well as the amount of space that can be used in it. You may be able to keep undesirable stuff in a basement that has not been completed. However, this area lacks the functionality of a basement that has been completed. This comprehensive guide on how to remodel a basement will walk you through each stage of the process, from preparing the area for building to putting the final touches on the project.
Determine the ways in which you plan to utilize the space – You need to have a strategy for the new use of your basement area before you can start the renovation process. The vision you have for your basement may play a role in determining a variety of design elements, such as the type of flooring you go with and the wall color you pick. Consequently, you should spend some time in the place before deciding how you intend to utilize it.If you are thinking of renovating your house to make it more desirable to potential buyers or to raise the value of your property, you can consider giving it a more open layout. After that, subsequent owners will be able to put it to use for whatever suits them. On the other hand, if you want to remain in your house for an extended period of time, it is possible that you will want to build your space precisely according to your preferences.
Set a budget – In order to begin the process of renovating your basement, you must first have a general estimate of how much money the job would set you back. The first crucial step is to create a budget for yourself. This will assist you in selecting the appropriate materials and finishing elements for your project. Additionally, it will assist in molding each stage of the procedure. Before you start working on your project, you should make sure that you have a budget planned out. It is of the utmost importance to have a budget in place before beginning the process of obtaining those essential items.
Clean up your space – In order to begin the process of renovating your basement, you are going to need to clear out all of the "stuff" that is presently taking up space there.It's possible that you've been storing things in your basement for many years. It's possible that the previous owners of your property left things in the basement when they moved out. It is necessary for you to clear out the contents of the basement before you can transform it into a space that may be used. Be sure that you are starting with a clean slate before beginning your remodeling so that you are not forced to work around objects that you no longer desire!
Do a moisture test – It's possible that you won't be too concerned about a tiny bit of wetness in your basement if you use it for storing things. On the other hand, when you are ready to repair your basement, humidity and moisture might prove to be a far more major concern. Mold and mildew can begin to form in areas where there is a buildup of moisture. It might even distort the brand-new floor that you want to install in your basement.
Conduct research on the local regulations and requirements – Take a step back and gather some information on the building rules and other standards that pertain to renovations in your area before you delve head first into your project. Contact the city planning department in your area or look up the building codes in your state online. Before you get started on any renovation, you should check to see whether your building is up to code and see if you need to file for any necessary construction permits. When planning improvements for your basement, be sure to keep these two typical criteria in mind:
How many exits are required in your basement: For instance, if you want to install a bedroom in the basement, you must ensure that there are adequate escapes. There may be a requirement in certain cities that any location you frequent on a regular basis has at least two exits.
How high the ceilings have to be: There are various situations in which there may be ceiling limitations that determine how you are allowed to use the space in your basement. Before you start renovating your basement, you should definitely look into them first.
Before beginning the remodeling of your basement, it is important for you to get familiar with the appropriate rules and processes. You don't want to find yourself in a situation where you have to pay hefty penalties or deal with headaches in the future because you neglected to ask the appropriate questions at an earlier stage of the restoration process. This might lead to a number of issues.
Insulate Your Basement – After you have completed the tasks associated with the pre-renovation, it is time to get started on the actual renovation! The first thing that has to be done is to insulate the walls of the basement. Cinder blocks are the typical material used to construct the walls of an unfinished basement. Increasing the amount of insulation in your basement may both reduce the amount of money you spend on electricity and make the space more pleasant.